Eat Work Art SPOTLIGHT: Tom Fry
Just 28 and originally from London, Tom Fry is a self-taught visual artist and poet who has seen exciting success this year. We got to speak to one of Hackney Downs Studios newest residents, as Tom shares his biggest moments, inspiration and journey to date.
Tom Fry has always been creative since a young age and used to draw a lot, graffiti, play the drums and write lyrics or poetry, but only really started developing a professional practice 4-5 years ago when he began painting.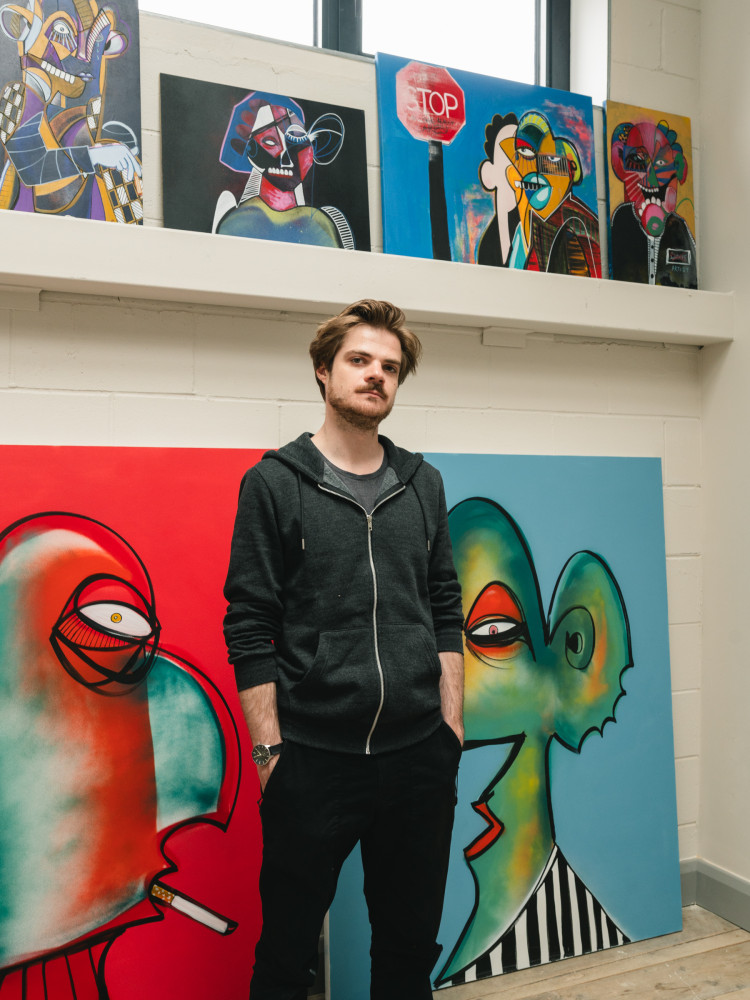 "Up until then my professional life was all about wine and hospitality, since the age of 17 I worked in a completely different world of late nights banging pans and mixing drinks, I've since also become a keen wine collector, and drinker! in my spare time. I love music, film, science, and as well as making art I also create NFTs - which are essentially unique digital collectible versions of my work.
Right now everything is in lightspeed mode, I've got 4 exhibitions for which the work is already created, so my day-to-day right now is consisting mostly of packing, shipping, marketing, getting on trains and even planes, but I can't wait to begin using my new studio when my next creating phase starts, which is basically as soon as possible."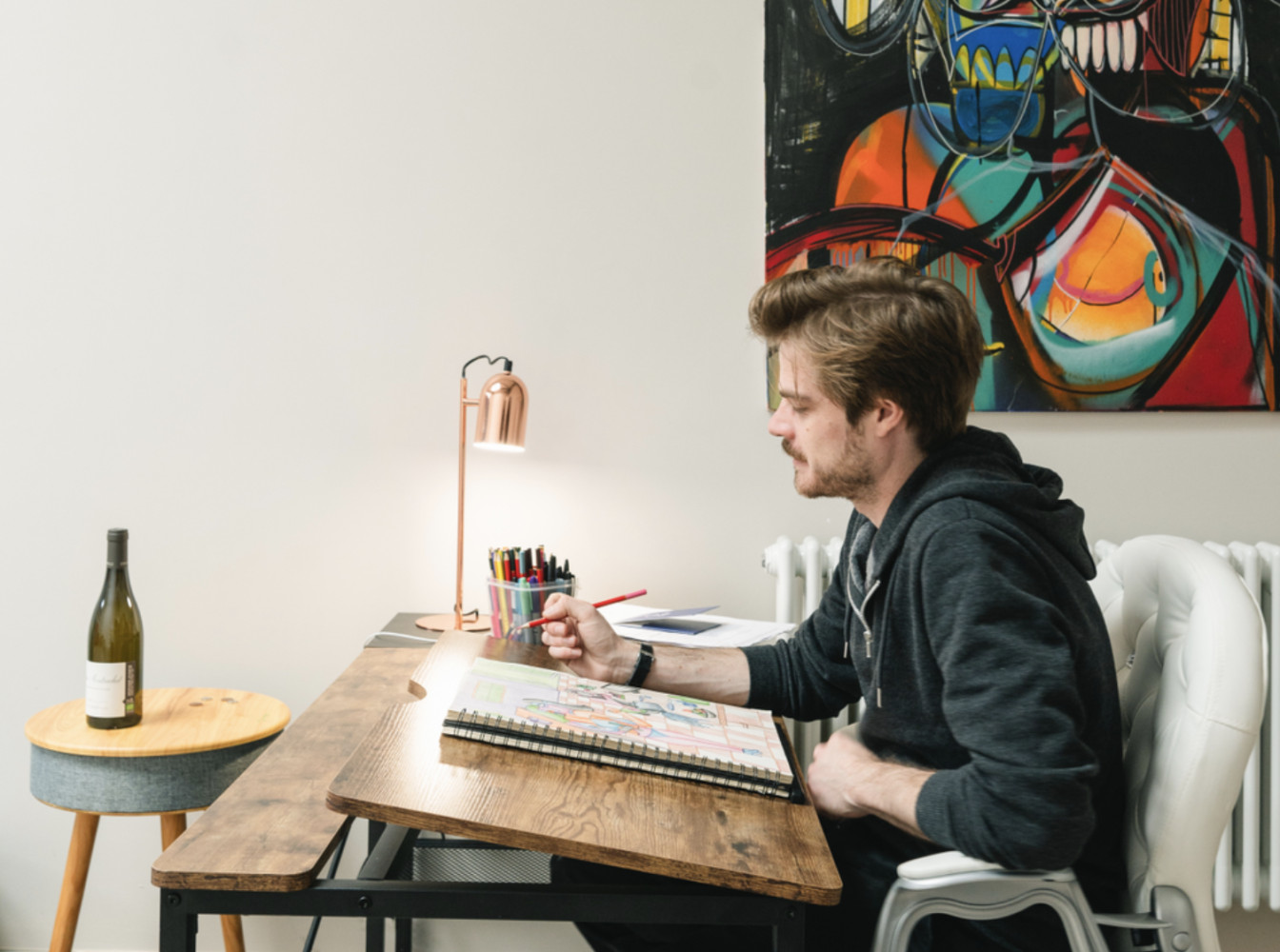 Where do you draw inspiration from?
"I began painting in response to some of my personal traumas, as a way to process emotions and have a dialogue with myself about my mental health. So I think every piece I get into is inspired by my own reflections and life events. Honestly I don't like to overthink things, I like the fact I never quite know what I'm doing, I like to just hit GO and get lost in it, then figure out what it all means afterwards. That being said I do have a process, which involves layering. Recently I've started employing a lot more patterns, which is a more directly cathartic and repetitive process which I find deeply satisfying. The dialogues I'm trying to have in my work are about isolation, loneliness, depression, love, addiction, death and grief. It's hard to talk about and the subject matter isn't always the most colourful, but the canvasses are. And I guess that's my point, my work is about processing trauma and turning it into something beautiful."

What's been your biggest moments over the past year and what can we look forward to?
"Yeah, it's been a hell of a year! I think discovering NFTs was a huge game-changer for me. Not only is the community of collectors, curators and artists incredible, but the things I learnt and connections I made on my journey into the metaverse were also life-changing. It all happened in such a short time, and Opensea - the largest NFT marketplace, featured my collection on their homepage back in June and the reception was monumental. My sales of digital work all of a sudden translated to the physical realm too, and before I knew it I'd nearly sold out my entire collection of both digital collectibles and physical paintings.
After that I was approached by a number of galleries, and after much consideration decided in signing a contract with a major Asian art gallery for a number of upcoming shows in Shanghai, Tokyo, Taiwan and Hong Kong. My next international exhibition is at Suomei M50 gallery within the Laputa Art Centre in central Shanghai, (also with 2 solo exhibitions planned for 2022 and 2023). Aside from this, I've just shown in Gosport, UK with Yellow Edge Gallery in support of Solent Mind charity and will be introducing my work here at Hackney Downs Studios in a solo showing on the 18th. I'm also taking part in FOMOLAND, Switzerland's first ever NFT exhibition and conference in a few weeks. I think November will be when I get my first chance to really start producing again, but I'm sure there'll be a long period of rest beforehand."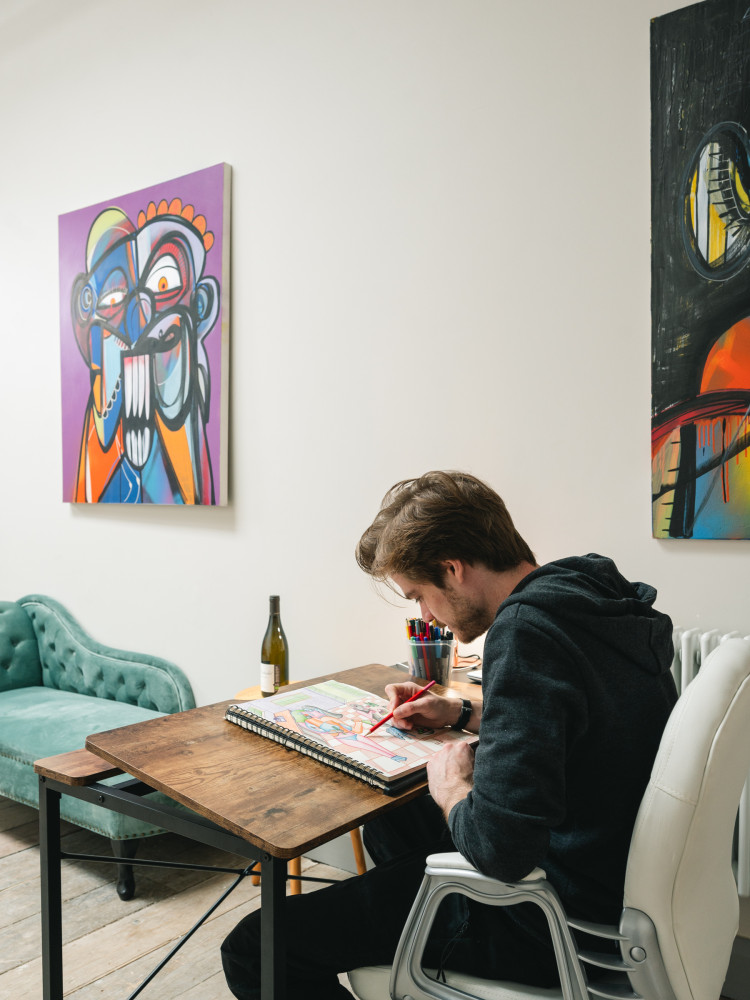 What's it like working at Hackney Downs Studios?
"I'm still moving in properly while coordinating my existing work for these upcoming shows. I'm excited though, the light in my studio is incredible, the ceilings are so tall I can finally work at scale I feel more comfortable with and the HDS team have been exceptional in welcoming me into the complex. I have space to do everything here, from spray-painting work to being behind my computer editing, drawing on my desk or just entertaining collectors or friends who stop by. I already feel it's an incredible community to be a part of and I've barely met any of the other residents yet so I'm excited to find some time for that too."
Anything you'd recommend doing?
"If we're talk about things to go and see, I would be missing a trick not to highlight my private view here at HDS on October 18th. It will be a great opportunity for anyone who wants to come and meet me or ask questions about the work on the night, I'll be exhibiting a diverse range of artworks progressing over the last 3 years, a mini-retrospective if you will. Alternatively the work will be on display in the building lobby for a week. I suggest pairing your walk of the exhibition with some good Motown and a glass of bubbles - you're good to go."
Tom's exhibition is a mini-retrospective into the artist's practice over the last 3 years, an emotional journey and dive into his experiences tackling personal traumas with paint, poetry and digital art.
Join us at the Private View on Monday 18th October to meet the artist and view his work.
Follow him on Instagram here.